LET'S MOVE FARM REVENUE
AND FOOD SUSTAINABILITY
FORWARD FASTER TOGETHER
We bring independent science and marketing services together in new ways to help farm and food organizations grow market share and increase sustainability faster and cheaper than traditional programs that center on one crop or company winning.  It's possible now for everyone to work together on food sustainability, from farm to family.
New findings about variety-level feed and oil value in soybeans means billions of dollars in seed-to-food revenue are poised to reroute. Enterprising organizations can be first in line to make more money and advance multiple sustainability drivers at the same time. We've made a discovery that can help:
Boost soybean nutritional quality and value for livestock feed
Increase feed corn sales
Reduce livestock feed costs
Reduce feed-related greenhouse gas emissions
Improve animal health
Advance sustainability metrics
Our farm and food sustainability advancement program offers a three-part program to speed success with multiple sustainability goals today, and improve farm revenue tomorrow.
How we can help
We Bring Science and Marketing Together to Build Farm Sector Revenue and Improve Sustainability Metrics Faster and More Affordably.
Determine soybean variety feed and oil value at species level
Quantify value of soy-corn-carbon connection within livestock supply chains
FieldRise Farm and consumer sustainability practice measurement and advancement
Prepare FieldRise farm and consumer sustainability scorecards to guide practice improvement
Consulting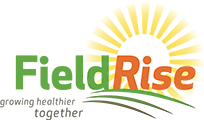 Solve agriculture's biggest challenge by bringing innovators together throughout the food chain, using an ecosystem strategy
Bring seed companies, farmers, livestock producers and consumers together to identify new ways to work together
Leverage gain-sharing strategies to share value across the farm sector
"Ask The Ag Pro" virtual tech team
Proactivism™ collaboration

MARKETING, EDUCATION
AND ADVOCACY
Brand and corporate reputation support
Integrated marketing communications campaigns
Sales promotions
Staff and dealer training
Social media services
Media relations
Websites quantifying the soybean value, corn demand and GHG reduction in supply chains

Science • Strategy • Sustainability • Marketing