Project Overview
Support Raised So Far:
100%
Over the past few decades, focus on soybean quantity has come at the expense of  soybean quality. Declining soybean meal value means poultry and pork growers pay more to get the nutrients they need, and that cost is passed down to consumers. In response, market share of synthetic amino acids, DDGS, and South American farmers have become strong competitors against the American farmer. Though high yields are important, preserving the quality of soybeans and helping growers choose seeds with the best nutritional value can help the U.S. regain its seat as the leader in high-quality soybean and animal feed production.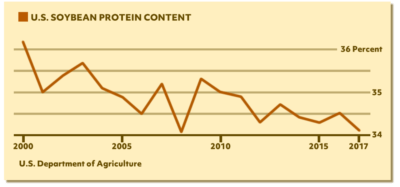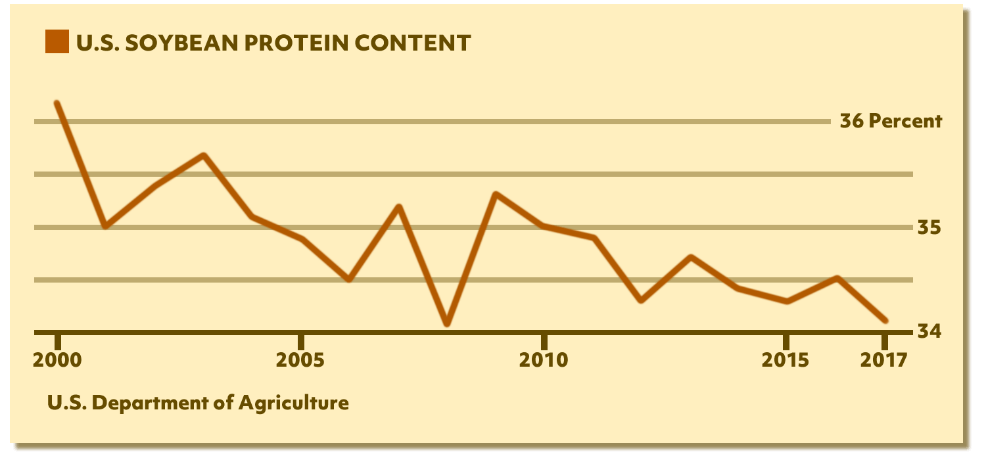 Scientists and industry experts at Blue Spring Ecosystems and FieldRise Analytics have demonstrated that it's possible to grow high-protein soybeans without sacrificing yield. Despite the end of funding in 2021 for this USDA-reviewed and Soybean Checkoff sponsored study, new sustainability data is being uncovered by our team with the aim of helping farmers get fair pay for better pork and poultry feed. The use of natural feed cuts greenhouse gas (GHG) emissions and nitrate pollution in our waterways, while providing health benefits and nutrition to livestock that's not available in factory-made feed.
Take action to get this seed selection information out to growers across the country. Our team is working diligently to assess FIRST seed data, run feed calculations, analyze hundreds of seed varieties, and evaluate variety-level feed and oil values.  Help us fund the next generation of agriculture data analytics and bring home billions in value to our American family farmers.
Project Name:
Soybean Nutrition and Food Sustainability Improvement Project
Date Initiated:
January 2, 2022
Expected Completion Date:
September 31, 2022
Project Contact Information
Name: John Osthus
Email: John@proactivism.com
Phone: 314-369-5015
Project Details
This project looks to continue the work Blue Spring Ecosystems and FieldRise started in providing variety level soybean values based on 2021 FIRST seed data and proprietary feed value analytics.
Grow farmer and consumer awareness about how falling soybean protein levels affect family farmers and food sustainability.

Reduce pig and poultry feed costs.

Help family farmers increase soy protein through better seed selection at no extra cost.

Increase public awareness about processors and agricultural trade groups protecting factory-made feed markets at the expense of American family corn and soybean farmers.

Negotiate fair prices for better feed and oil values with soybean buyers, and ensure benefits for participating farmers.

Expand feed corn sales by more than 14% as a result of increased soybean nutritional quality.

Decrease lifecycle greenhouse gas emissions in pigs and chickens by feeding soybeans and corn instead of factory-made feed.

Feed more people with the same amount of land.
Project Services: Here's what this project will deliver to farmers and consumers:
Empower family farmers to make the best seed selection decisions based on the best seed selection data.

Launch an educational campaign aimed at informing farmers about the hundreds of millions of dollars lost each year to synthetic feed ingredients.

Establish a complete soybean variety database of livestock feed value.

Publish complete soybean variety-level value information by fall of 2022, using a new URL that is owned by Proactivism for direct benefit farmers and consumers.

Quantify change in corn demand as a result of selecting improved soybean seed varieties.

Identify and measure nitrate and GHG emissions benefits of superior soybean varieties.
The American farmer is an independent lot, but they can't do it alone.  After all, it's our food they are producing. Take action to ensure farmers have the tools they need to succeed and produce the best food possible.  To help, invest in the American family farmer, U.S. agriculture, food security and independence, and in the land that will feed us for generations to come.
Take part in the world's largest industry today and donate to help us help farmers help you!!
Project Stretch Goals: If we exceed our project goals, the extra funding will be used to implement the following added features:
Add beef, dairy and fish feed valuations.

Research potential GHG emission impacts, soybean quality, and amino acid content on beef, dairy and fish feed ration formulations.
Support this Project and Help
Family Farmers
U.S. Soybean Production
Hog Farmers
Poultry Farmers
Corn Farmers
Soybean Farmers
Dairy Farmers
Beef Farmers
Aquaculture
Our Food Supply
Our Country
Our Planet!
By Check
Checks can be mailed to:
Proactivism
Soybean Quality Improvement Project
c/o John Osthus
948 Imperial Pt.,
Manchester, MO 63021